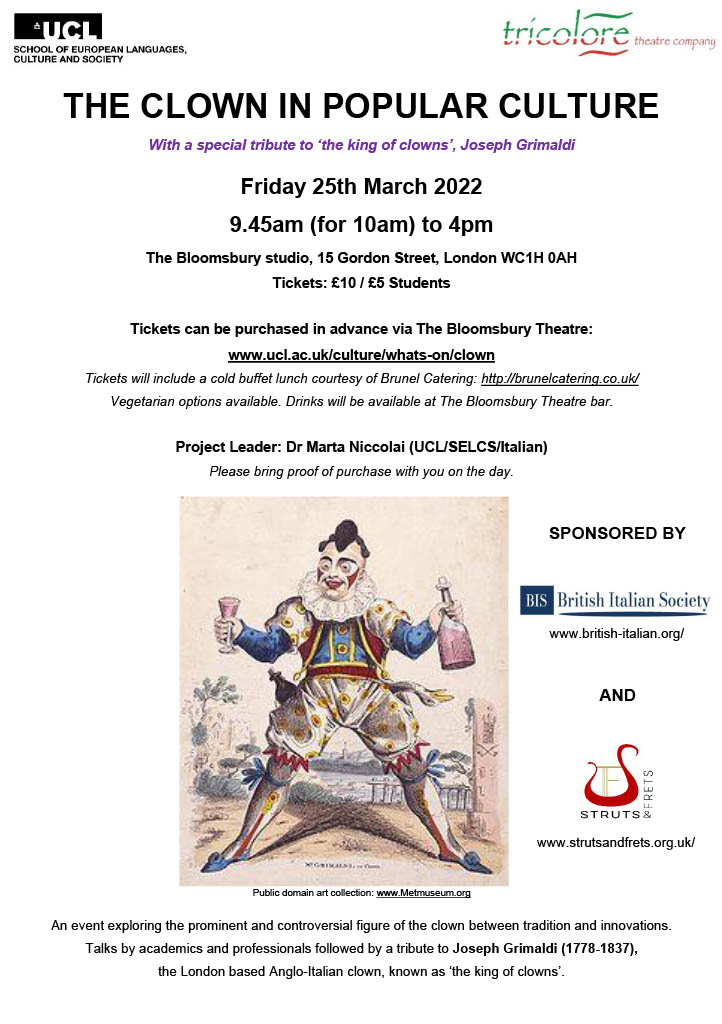 Grimaldi's Last Act is an audio play produced as a lockdown project by Tricolore Theatre Company. Click here to listen to the recording. It is free of charge. However, if you would like to support our (not-for-profit) work, please consider donating to Tricolore Theatre Company using the Donate button below.
Joseph Grimaldi was an A List celebrity of Regency England. He was an actor, comedian and dancer and if you have ever been to the pantomime or seen clowns at the circus, it's likely that they were influenced by Joseph Grimaldi. In the late 1700s a clown was a minor character in a whimsical show called a Harlequinade, a largely silent performance with music, dancing, comedy and pathos. Grimaldi expanded that role into the baggy suited, colourful, painted-faced clown who graces our circuses today. He played many comedy and serious roles to audience acclaim.
Coming from a long line of stage performers, Grimaldi was a true London Italian. Born in Clare Market, Westminster in 1778, he first joined his father on the stage before the age of two and by 6 was a famous child star. As an adult, he went on to have huge success on the stage, in lavish pantomimes with many costume changes, songs, dances, comic routines effects and acrobatics. He became good friends with Lord Byron and George, the Prince Regent. However, the rigorous and dangerous stage routines, financial instability and family tragedies affected his physical and mental health.
Grimaldi's last performance was on Friday June 27th, 1828 at Covent Garden Theatre and he died in 1837.
The young Charles Dickens was a fan of Grimaldi, having seen him play live and wrote an enchanting biography of the celebrated performer. That biography formed the basis of Tricolore Theatre Company's stage play, which will be performed in London in 2023.
Grimaldi's Last Act (the audio play) was written by Penny Culliford and adapted from the Memoirs of Joseph Grimaldi by Charles Dickens. It is performed by Edmund Dehn, directed by Anthony Shrubsall, produced by Nadia Ostacchini, the sound edited by Adam Graver and the music arranged by Zelida Gordon, based on works of Grimaldi's time, including 'Grimaldi's Whim', which was written in his honour and 'Hot Codlins', which he sang live on stage.
Please continue to support our work by following this page for updates on our stage play. Please also consider donating to Tricolore Theatre Company and follow us on Facebook, Twitter and Instagram.